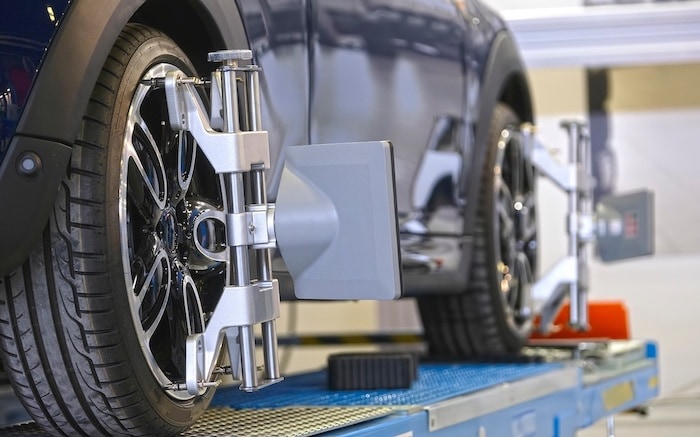 When it comes time for your Audi to receive a wheel alignment service, visit our Audi service center in Queens. The Audi Queens service team offers a state-of-the-art facility with certified technicians who are knowledgeable and dedicated to providing you a valuable service experience.
Schedule Wheel Alignment Service
Signs Your Audi Needs a Wheel Alignment 
Most wheel alignment issues are self-diagnosable, seeing that your driving and handling are directly affected. If you begin to notice any of the following warning signs, it may be time to schedule an appointment for a wheel alignment service.
Uneven Tire Wear - This warning sign can lead to a shorter lifespan and even potential tire blowout 
Vibration in Steering Wheel - Vibrations become more evident at higher speeds, and in a more serious case, cause the whole Audi to shake. 
Vehicle Pulls to One Side - This is the most common and easily noticeable problem associated with misalignment. 
Tilted Steering Wheel - Related to your Audi pulling to one side, if you cannot drive straight without turning the steering wheel, you have misaligned wheels 
How Often Do I Need a Wheel Alignment?
Your Audi's wheel alignment affects various aspects of your driving safety as well as performance and components. Supporting your steering and safety, interval wheel alignment services are necessary. We recommend you receive a wheel alignment service once every two to three years. Our recommendations also include following the interval schedule in your owner's manual or maintenance charts. 
The timeline of needing a wheel alignment service may vary depending on your driving habits, such as how often you drive and miles are driven. Also, unexpected potholes, hitting the side of the curb, or typical wear-and-tear with no maintenance may surge a need for a wheel alignment. 
Schedule Wheel Alignment Service in Queens
Would you like to learn more about our Audi wheel alignment services? Are the tires on your Audi misaligned, requiring a needed service? Schedule an appointment at our Audi service center in Queens, and we will get you back on the road as soon as possible. 
But first, please browse through our available service specials to help you save on your next appointment. 
If you have any questions, please feel free to contact our team. Located in Queens, NY, we are more than happy to assist you.