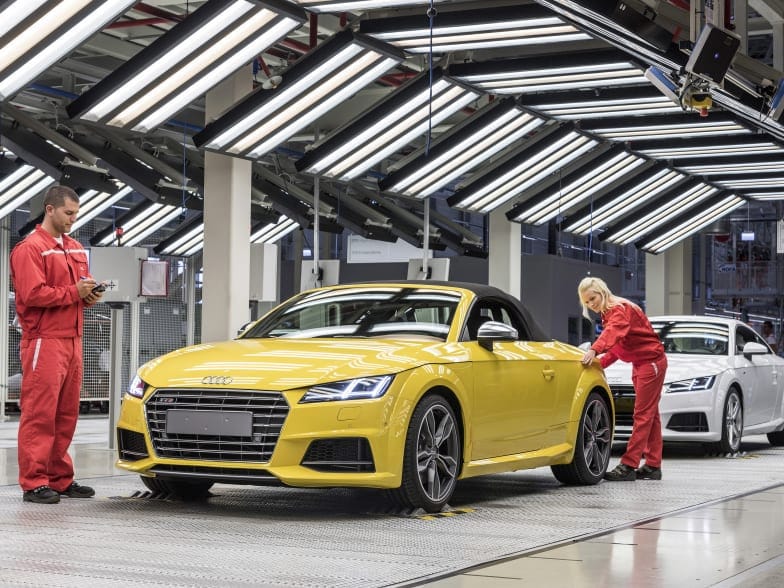 Here at Audi Queens, we are here to help you when accidents happen. Our team of certified technicians at our Audi Queens Collision Center will provide service to the damage done to your Audi. We know how much you care about your luxury sedan or SUV and that is why we want to help.
Our team of Audi collision repair and maintenance service technicians not only want to offer you a high level of workmanship on your vehicle, but provide you with helpful information and tips in the event you are involved with a collision. Learn more how our Audi Collision Center services are here to help you.
Why You Should Repair Your Audi At Our Body Shop in Queens, NY

Not only do we have the specific tools for your Audi's sedan or SUV repair, but also our team of Audi technicians is trained in factory-approved repair and maintenance procedures that help get you on the road in no time and maximize vehicle value.
We ensure peace of mind in our safe repairs using Audi Genuine OEM Parts for all repairs to maintain original performance. Here are some other reasons why you should repair your Audi at our collision center in Queens:
Eligible customers receive complimentary towing to the facility via Audi Roadside Assistance.
Limited warranty covers all Audi Genuine Parts.*1
Only Audi Approved Aluminum Repair Facilities are factory-authorized to repair Audi ASF® aluminum construction.
Limited lifetime warranty on paint repairs through OEM paint suppliers.*2
Helpful Post-Collision Tips
If you are ever involved in a collision, here are some tips to follow:
Stop - no matter how minor the collision - in a safe, well-lit area.
Notify the local police and insurance company. Ask for an ambulance if necessary.
Have your driver's license, registration, and insurance information ready
when the police arrive.
Write down the names and phone numbers of any witnesses and information of the injured, if any.
Document the vehicles and the scene.
If necessary, contact Audi Roadside Assistance*1 at 1.800.411.9988 (1.866.478.3456 for R8 and A8 owners), and have your vehicle towed to Audi Queens' Authorized Collision Repair Facility.*2
Audi Customer Insurance Rights
Collision insurance is required, whether you buy or lease your Audi. This helps protect you and the finance company by helping to ensure sufficient funds are available to repair the vehicle in case of a collision. Certain consumer rights are included with the purchase of an automotive insurance policy.*5
The insurance company must provide you a copy of your policy. Read it carefully to make sure you understand your rights under the terms of the policy.
You may cancel or change insurance at any time. You don't have to wait until your policy is up for renewal.*6
You have the right to decide where to have your Audi repaired, unless that right is limited by your insurance policy.*7
Insist that your insurer and repair facility agree to the use of Audi Genuine Parts and Audi approved repair procedures to make all repairs.*7
By choosing an Audi Authorized Collision Repair Facility,*4 you help ensure that the correct parts and procedures are used to repair your Audi.
Schedule Collision Repair Services in Queens 
If your Audi sedan or SUV needs a repair after a collision, schedule an appointment with our Body Shop in Queens, NY. 
Our Audi finance department also provides financing for repair and maintenance services. 
Please do not hesitate to contact us with any questions or if you want to learn more about our Audi dealership and collison center!
Disclaimers
*1 12 months or 12,000 miles, whichever comes first. In the event that a replacement part fails within the warranty period,
labor costs to replace that part will be covered. See dealer for details.
*2See your authorized Audi Dealer for details.
3 Audi Roadside Assistance provided by a third party.
*4 Audi Authorized Collision Repair Facilities are independent businesses not affiliated with Audi of America, Inc.
*5 Please refer to your local/state laws.
*6 Contact your insurance professional and review your policy for more information.
*7 Audi Genuine Parts are available except where prohibited by state law.