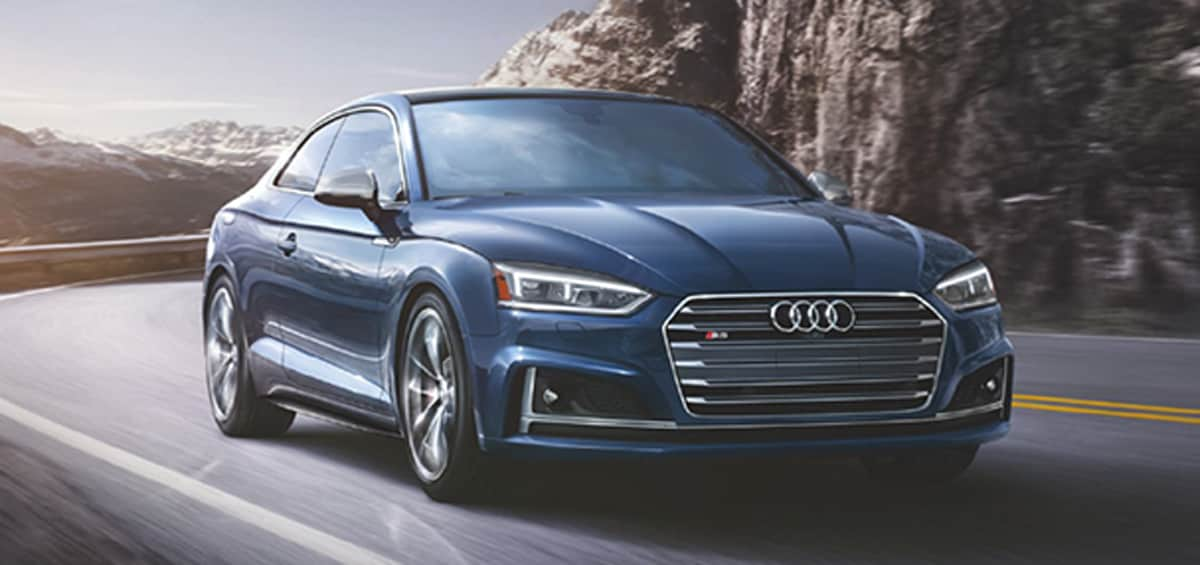 Some vehicle wear and use is expected. The following pages outline common damage items and what we consider "normal" versus "excess" wear and use. Make sure to use our "Wear and Use Guide" where you see beside any picture. This guide will assist you in reviewing your vehicle prior to scheduling your vehicle inspection. Simply remove this card and hold it against any dings or dents—it can also be inserted into your tire tread.
For questions about items not covered here, call us at 855-802-4536.
Wear and Use: Exterior
Normal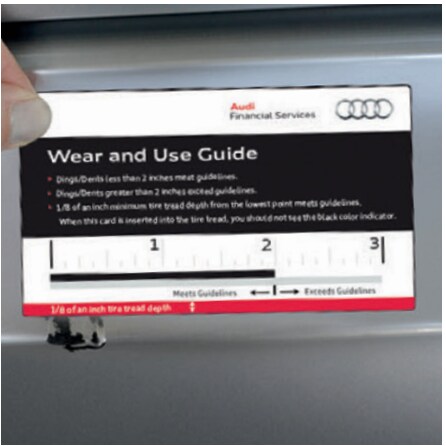 Scratches, dents, and gouges smaller than 2 inches on bumper or panel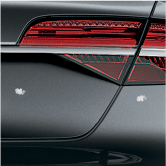 Three or fewer "dings" per panel (a ding is the size of a quarter or smaller, without broken paint)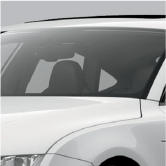 Single windshield chip without spidering
Exterior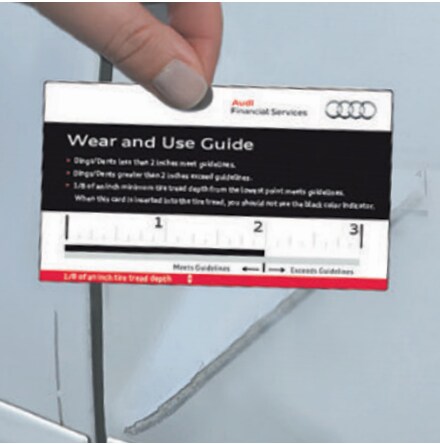 Scratches, dents, and gouges larger than 2 inches on bumper or panel
Improperly completed body repairs (i.e., mismatched paint, sanding marks, and incomplete dent removals)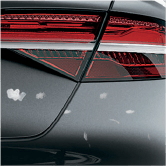 More than three "dings" per panel
Multiple chips, scratches, and dents per body panel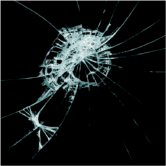 Multiple chips, cracks, or pits measuring more than 1/8 of an inch, or improperly tinted windows
Wear and Use: Interior
Normal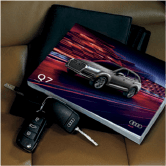 Minor staining and carpetwear
All original equipment present including the owner's manual, all sets of keys, headrests, and Cargo Cover (if applicable)
Excess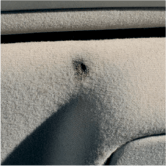 Upholstery holes, tears, burns,
Excessive staining of the upholstery, carpet, or interiorpanels
Damage to convertible top such as cuts,burns, singes, tears, or stains
Wear and Use: Mechanical
Normal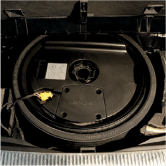 All equipment, options, and accessories
are intact andworking
Excess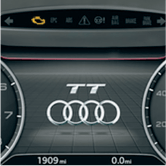 Service indicator lights are on indicating maintenance or repair is needed (i.e., check engine light, airbag light, and anti-lock brake light/ABS)
Wear and Use: Tire and Wheels
Normal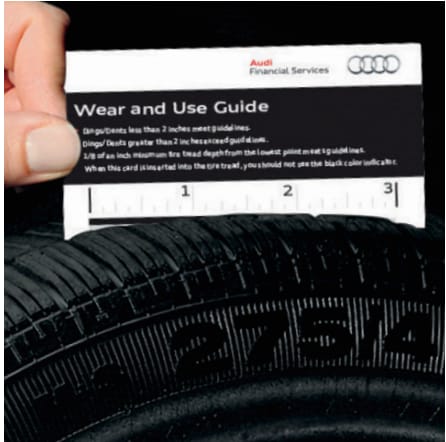 All four tires and the spare have more than 1/8 of an inch of tread at the shallowest point
Tires are same size and quality as the original equipment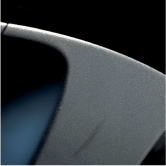 Minor steel or alloy wheelscuffs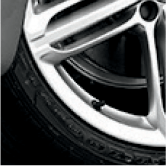 Multiple, mixed tires are acceptable for Audi vehicles not equipped with quattro ® all-wheel drive as long as same size, rating and quality as original equipment
Audi vehicles equipped with quattro ® all-wheel drive must have matching brand, size, and rating on all tires
Wear and Use: Tire and Wheels
Excess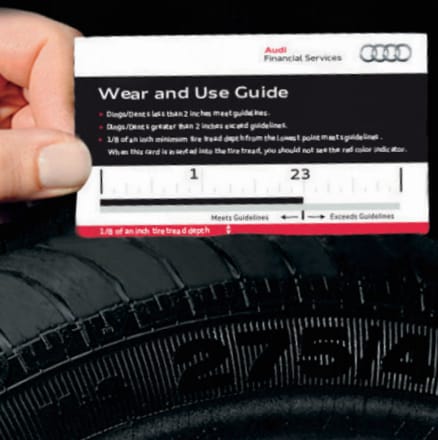 One or more tires, including the spare, have less than 1/8 of an inch of tread at the shallowest point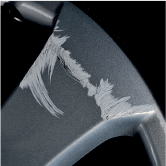 Heavily gouged steel or alloywheels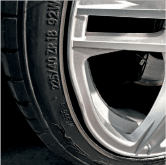 Retreads, snow tires, gouged tires, or tires with cut or plugged sidewalls
Unrepairable steel wheels or alloy wheels that are broken, missing, or bent
Schedule your vehicle Inspection
You can also schedule your inspection by calling the inspection company, Alliance Inspection Management (AiM), at 844-889-8529.
Appointments are available Monday – Friday between 8 am and 5 pm, local time, and can be scheduled at your home or work, as long as someone 18 years or older is present.
During the inspection, an AiM agent will evaluate your vehicle for any excess wear and use. Upon completion, you will receive an inspection condition report, which itemizes any excess wear. Any excess wear will be billed on your Turn In Settlement Invoice (unless you choose to repair the items prior to turn in).
If you have any excess wear charges, we highly recommend that you discuss the results with your Audi Dealer and insurance agent. Your Dealer may have helpful suggestions for minimizing out-of-pocket expenses. Make sure to ask your Dealer if any of the repairs needed are covered under warranty. If repairs are completed, please email the receipt along with proof of payment, proof of the work performed, and the vehicle description (ie: VIN or vehicle Make, Model, and Year) to RepairReceipt@AudiFS.com before turning in the vehicle—this will allow time to adjust your Turn In Settlement Invoice.
Please note: Based on Wisconsin and New Hampshire's specific regulations relating to vehicle leases, you are required to schedule your appointment within 15 days from the maturity date of the lease.
Inspection Checklist
Clean your vehicle inside and out
Make sure all items are present:
All keys
Owner Manuals and Maintenance Booklet
Headrests
Cargo Covers (if applicable)
Any equipment installed at the time of delivery
Turn in your vehicle
Once your inspection and desired repairs are completed, turn in your vehicle at your Audi Dealership.
Here's how:
Contact your Audi Dealer to set up a turn in appointment.
At the Dealership, make sure to obtain a copy of your Vehicle Turn In Form for your records.
After you've turned in your vehicle to the Dealership, contact us with any questions at 866-277-8191.
You'll receive a final Turn In Settlement Invoice from us within approximately 4–6 weeks. Please see our FAQ section for a breakdown of what's included on the Turn In Settlement Invoice.
Showroom Hours
Monday

9:00AM-6:00PM

Tuesday

9:00AM-6:00PM

Wednesday

9:00AM-6:00PM

Thursday

9:00AM-6:00PM

Friday

9:00AM-5:00PM

Saturday

9:00AM-5:00PM

Sunday

Closed
Service + Parts Hours
Monday

7:30AM-5:00PM

Tuesday

7:30AM-5:00PM

Wednesday

7:30AM-5:00PM

Thursday

7:30AM-5:00PM

Friday

7:30AM-5:00PM

Saturday

8:00AM-5:00PM

Sunday

Closed