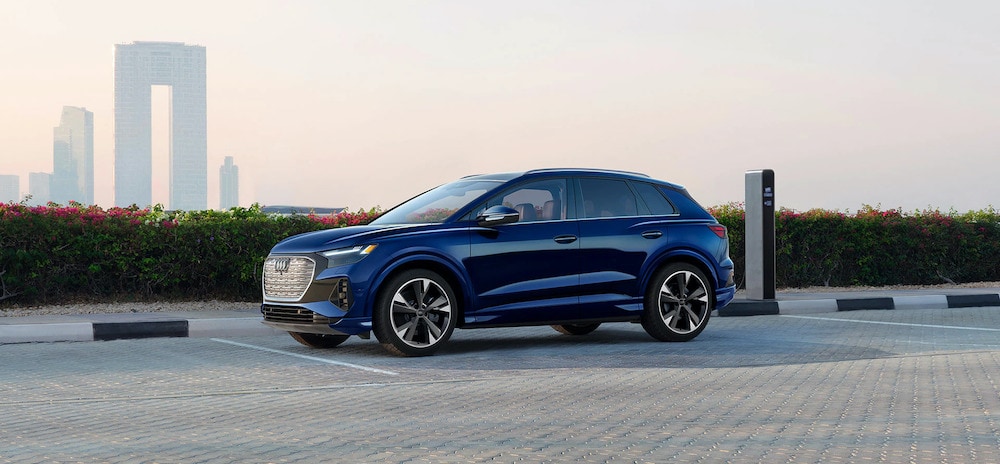 The future of luxury automotive is advancing towards a carbon-emission-free future through electric and plug-in hybrid models. Audi sedans and SUVs have already taken that step forward with a robust selection of electric and plug-in hybrid models including:
Audi Electric Models
2022 Audi Q4 e-tron®
2022 Audi Q4 Sportback e-tron®
2022 Audi e-tron®
2022 Audi e-tron® Sportback 
2022 e-tron® S
2022 e-tron® S Sportback 
2022 Audi e-tron GT 
2022 Audi e-tron RS
Audi Plug-In Hybrid Models
2022 Audi Q5 TFSI e
2022 A7 TFSI e
Here at Audi Queens, we provide more detail on our electric and plug-in hybrid Audi models and invite you to shop through our online inventory. Experience the true meaning of luxury with us today!
What is the Difference Between Electric and Plug-In Hybrid?
The main difference between electric vehicles (EV) and plug-in hybrid electric vehicles (PHEV) is that EV models run solely on electric components while PHEV models use a combination of both gasoline and electricity as fuel sources. 
Why Buy an Electric or Plug-In Hybrid Vehicle?
The availability of electric and plug-in hybrid vehicles has provided Queens drivers with an alternative option to elevate their driving experience, and also comes with various benefits for yourself and the environment. Buying an electric or plug-in hybrid Audi model comes with benefits including: 
Cleaner environment
Lower running costs
Better driving experience
EV Grants
Lower Maintenance Costs
Reduced Noise Pollution
Increased resale value
For drivers currently or interested in driving an EV or PHEV vehicle, Audi Queens provides more detailed information on receiving federal income tax credits for owning an EV or PHEV. Learn more about the requirements and how you can claim federal tax credits.
Additional EV Audi Resources:



Shop New Electric and Plug-In Hybrid Models in Queens

Electric and Plug-in Hybrid models are now viable, everyday forms of transportation, and we welcome you to our Audi dealership in Queens to shop for yours today. If you have questions or would like more information, please contact our team. Serving the Bronx, Manhattan, and Flushing, NY areas, we hope to hear from you soon.