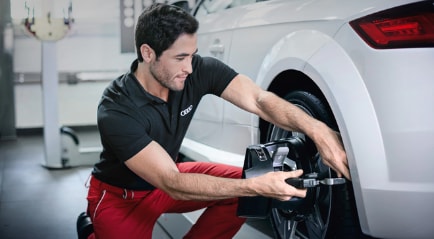 Our Audi Queens service center is always ready to help Queens area auto-owners maintain their vehicles. While routine maintenance and regularly-scheduled trips to the service center are important, they are even more imperative when preparing for a stark weather change.
Adding snow or other inclement weather to the mix while driving can be a headache to think about, but our Audi Queens service team can help prepare you for the cold weather, icy road conditions and more.
How Do I Prepare My Audi for Winter?
Battery Inspection
Having your car battery die on you unexpectedly is bad enough, but freezing temperatures and snow storms can make the ordeal much worse. Our certified service technicians can make sure your Audi battery is in good condition, and run tests to determine if it is fit to survive a long winter.
Snow Tire Installation
Driving through snow and slush can be dangerous, and snow tires are some of the best equipment your Audi can have for the season. The rubber compound in winter tires remains flexible through cold temperatures, which allow snow tires to help maintain traction on ice or snow.
Windshield Wiper Blade and Fluid Replacement
Adequate windshield wipers are what help you see when driving through inclement weather. If your wipers are not capable of keeping your windshield clear through snow or freezing rain, it can be a hazard to you and others on the road.
Have our Audi-certified technicians take a look at your windshield wipers blades and fluid to make sure your Audi is ready to keep your vision clear.
Schedule Winter Car Service at Our Audi Queens Service Center
If you need any of the aforementioned services for your Audi, be sure to schedule a service appointment with us at our Audi Queens service center. If you have any questions about car maintenance through the winter or general service questions, you can always contact us at Audi Queens.