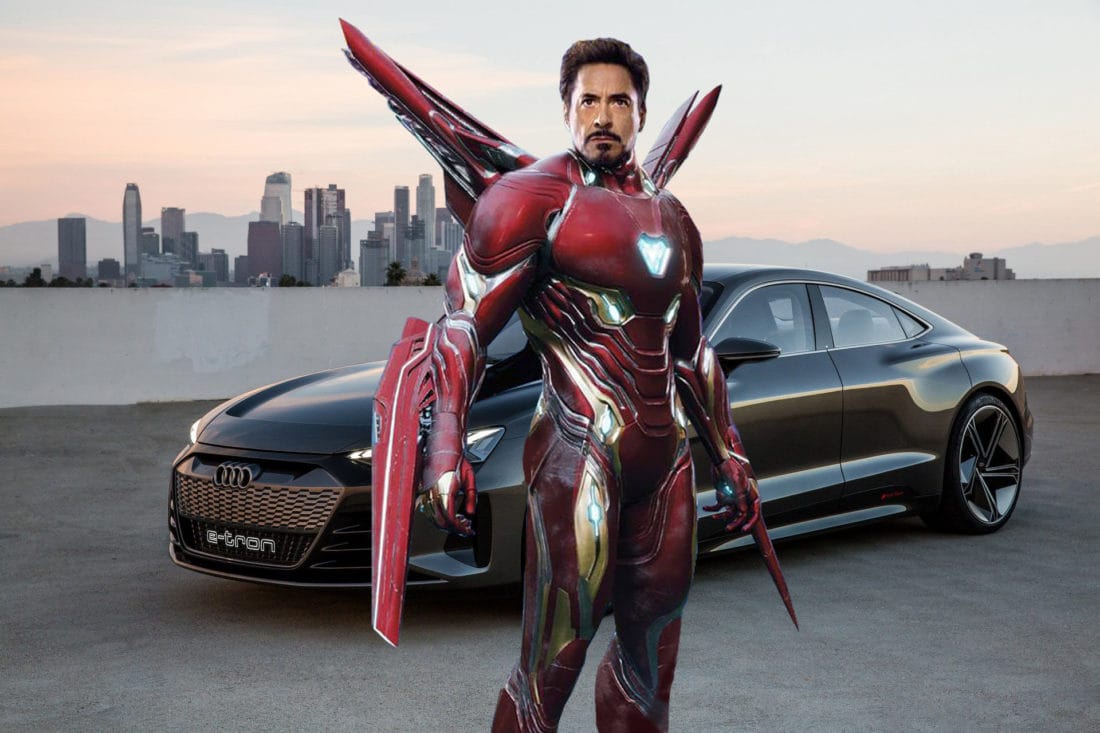 We promise you, there are no spoilers here for anyone who has not had the chance to watch the latest Marvel Avengers movie, Avengers: Endgame. Now that we got that disclaimer out of the way, we'd like to focus on how Audi and Marvel Studios partnered for another sensational ad campaign, and two Audi e-tron vehicles were in the movie itself. The Audi e-tron is part of the Avengers!
Captain Marvel and the Audi e-tron
Before the debut of Avengers: Endgame on April 26th, 2019, Marvel and Audi partnered for a dual promotion ad campaign for the upcoming movie and the upcoming Audi e-tron lineup of electric vehicles. The first part of the campaign featured actress Brie Larson as Captain Marvel returning to Earth and receiving a humorous debriefing on the status of the world. The video features the Audi e-tron SUV that gets a "quick charge" from Captain Marvel before she takes it for a spin. Check out the video below!
Iron Man and Audi Were Made for Each Other
The second part of the campaign was the movie premiere, which was sponsored by Audi. Actor Robert Downey Jr., who plays Tony Stark/Iron Man, arrived to the premiere party in the Audi e-tron GT. If you have watched any of the Marvel Iron Man movies or Marvel Avengers movies, you know that this is the perfect vehicle for Tony Stark to arrive in. This partnership with Marvel and Audi actually began back in 2008. Loren Angelo, VP of Marketing for Audi of America, had this to say about the Marvel/Audi partnership: "Since Tony Stark introduced the world to the iconic Audi R8 in 2008, Marvel fans have really embraced the brand. We're eager to introduce them now to the all-electric Audi e-tron SUV and expect an equally strong fan reaction to Tony Stark's new supercar the all-electric Audi e-tron GT concept" – Audi USA Media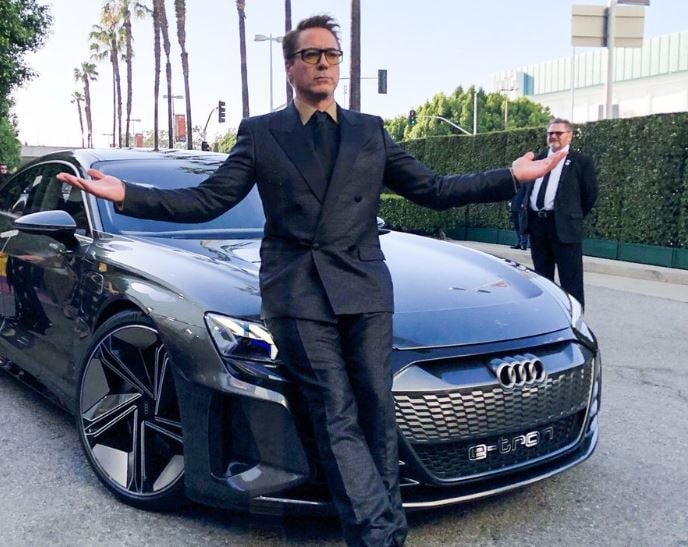 Photo from @Avengers on Twitter
Audi & Avengers Give Us A Bold Vision into The Future
The final, main part of the dual promotion partnership was in the movie itself. Again, there are no spoilers coming so don't worry. The Audi e-tron Sportback concept and Audi e-tron GT concept, appear in Marvel Studios' Avengers: Endgame in separate parts of the film. The movie debut of each vehicle had both Marvel fans and Audi fans buzzing. Fans were wondering what the models were, and when and where they could get their hands on them.
Audi's first fully electric vehicle offers ample room for everyday life, electric quattro® all-wheel drive, and fast-charging capabilities. While it may not be Captain Marvel fast, with pioneering charging technology that allows our current e-tron SUV to charge at speeds of up to 150 kW at high speed public chargers, with future models anticipated to be able to reach charging speeds of up to 350 kW - we think it's pretty darn close!
Avengers: Endgame gives us a sneak peak at all three visionary models in the Audi e-tron lineup. This includes the Sportback crossover, the GT sedan, and a PB-18 coupe that is also from the high performance Audi Sport line. With an SUV, sedan, crossover, and high-performance coupe option we're confident we have the right vehicle for you.
Welcome to an Electric Future
Audi has pledged that one third of all new Audi models will be electrified by 2025, and this shows they are taking that pledge very seriously. The trend of fully electric powered vehicles has been growing rapidly in recent years and Audi intends to lead the charge into this new era with a multi-model lineup. They are already off to an excellent start and we cannot wait to see what they do next!
You won't have to wait much longer as the future of e-tron is almost here. According to Audi, as of February the Audi e-tron SUV received well over 20,000 reservations worldwide. If you'd like to get more information about the Audi e-tron SUV, or you want to secure your place in line for your made-to-order Audi e-tron at Audi Queens, visit our dealership today or call us at 855-802-4536! With vehicle production limited, and fulfillment based on your reservation date, act quickly to be among the first to own an e-tron.