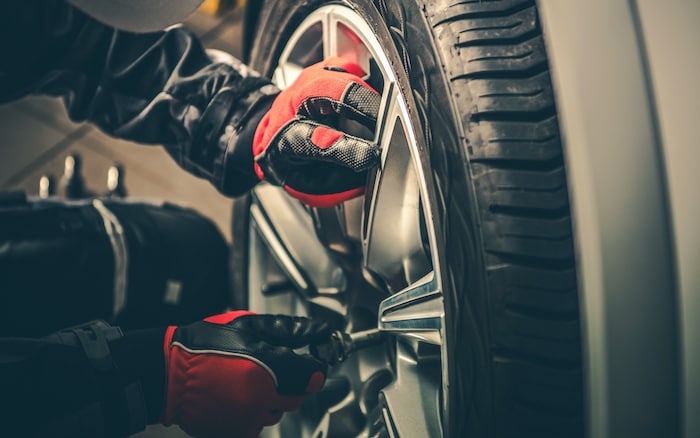 When you are behind the wheel of a new Audi, you experience a smooth drive wherever your adventure may take you. To maintain your luxurious driving experience, rotating your Audi's tires becomes a necessary service interval to receive. 
If your tires are due for a tire rotation, we encourage you to schedule an appointment with our Audi service center in Queens. Our Audi service center is sure to take great care of your vehicle creating a more stable and efficient commute, as well as provide you with tips when caring for your tires. 
Why Do I Need to Rotate My Tires on My Audi?
As the only point of contact with the road, the main reason you need to rotate your tires is to prevent uneven wear. Your tires wear out at a different rate, creating an uncomfortable ride. The front tires wear out faster than the rear tires, so the rotation helps even out the distribution of wear, promoting balanced handling, traction, and increasing the lifespan of your tires. 
Warning Signs I Need to Rotate My Tires
There are three main signs that indicate a need to rotate your Audi's tires: 
Uneven Tire Wear - This warning sign requires a visual inspection and use of the "penny test" (Place a penny headfirst into several tread grooves across the tire. If you always see the top of Lincoln's head, your treads are shallow and worn. If this is the case, your tires need to be replaced.) 
Vehicle Vibration - Vibrations felt at speeds 45 MPH or higher may signify a need for a tire rotation.
Pressure Loss - If one tire loses air slowly but faster than the others, it may receive too much pressure. Inspection is needed as it could also mean a tire puncture.
These warning signs are common signs of wheel misalignment and tire imbalance. One of our technicians will help determine the issue.
How Often Do My Audi Tires Need to Be Rotated?
The interval schedule to follow should be to receive a tire rotation every 5,000 to 8,000 miles or once every six months, whichever comes first. All-wheel drive vehicles need to be rotated every 3,000-5,000 miles because each tire is actively engaged while you drive. 
These intervals also depend on your driving habits. We recommend you refer to your owner's manual for precise scheduling or browse our maintenance charts for your specific Audi model.
Schedule Tire Rotation Service in Queens
If the tires on your Audi require a tire rotation, schedule an appointment with our service center in Queens today! Providing you with a team of certified technicians, specialized equipment, precise analysis, genuine OEM Audi parts, and an instant service quote, we offer the true luxury experience here at Audi Queens
To add more value to your scheduled appointment, we offer you Audi service specials for your benefit.

If you have any questions or would like more information about our Audi routine maintenance services, please feel free to contact us. We look forward to hearing from you soon!